You may have heard that there is a Franklin Park Transportation and Access Study happening to make access to and biking in Franklin Park easier for all.  More on that below.
Someone decided that they didn't want to wait for the study to finish and the money found to make the recommended changes and decided to do their own small part to make biking through the park easier.
The simple "bridge" allows a rider to cross an open culvert without stopping or dismounting, a difficult feat prior to the installation.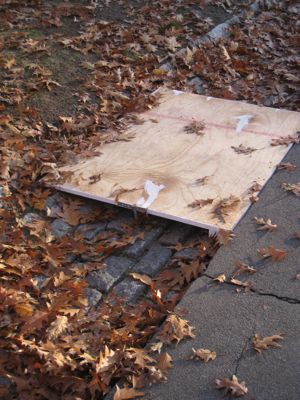 Debbie and I both tested the bridge and its sturdy and stable and a definite improvement.

Gotta love guerilla bike improvements.
Oh and about that official study.  The draft recommendations available for download from the Parks page of the city website as a 3 pdf document (check out the Reports and Publications section near the bottom of the page) outlines the proposed bicycle and pedestrian improvements.   The comment period goes until November 24th so if you want to give your opinions or suggestions you send them to Howard/Stein-Hudson Associates, Attn: Joseph SanClemente, P.E, 38 Chauncy Street, 9th Floor, Boston, MA, 02111  or send them to us via email using our contact form and we'll forward them along.